Top 3 Best Places to Visit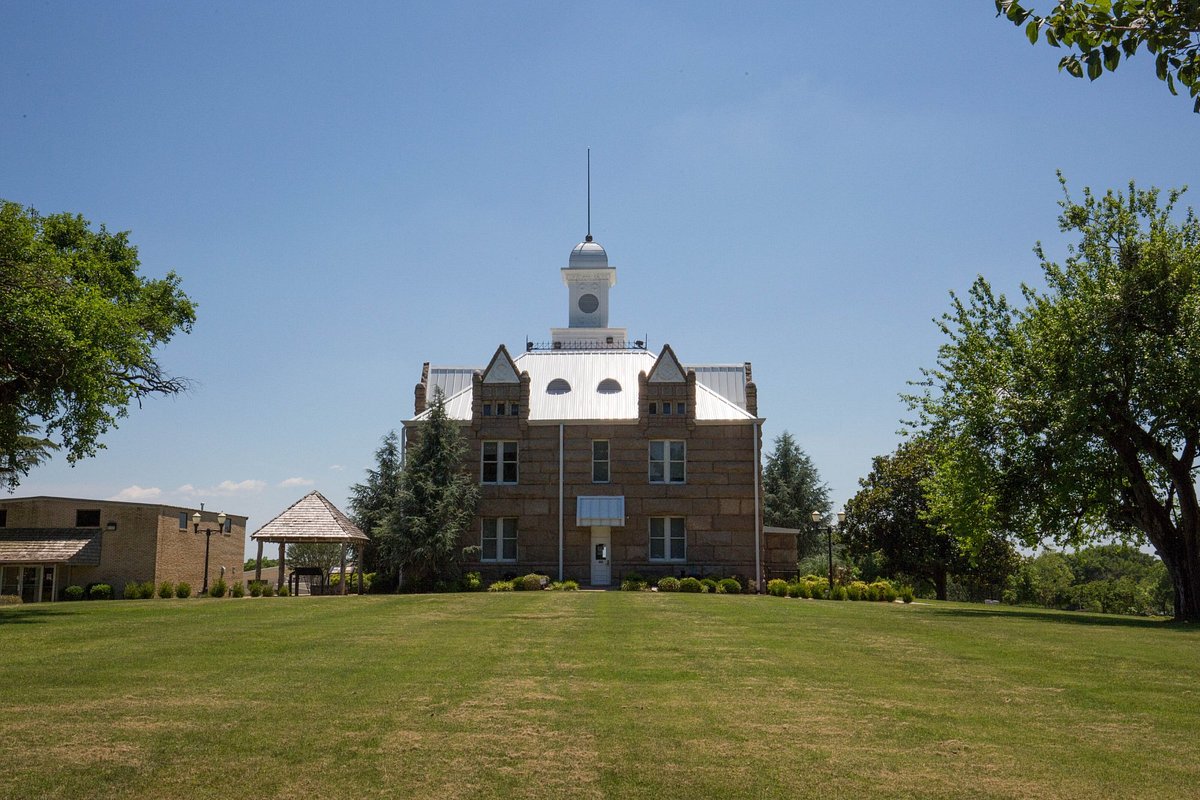 Chickasaw National CAPITOL Building and Museum
Built in 1898, this 8,000 square feet gothic-styled structure was built in red granite from the Pennington Creek quarry. The Chickasaw National Capitol serves as a museum and reminder that the Chickasaw people fought for their tribal identity and independence.
*Reservations are required for large groups for guided tours. 
Chickasaw Council House Museum
The Chickasaw Council House Museum is located on Capitol Square in Tishomingo next to the Chickasaw National Capitol. The first Chickasaw Capitol House built in Indian Territory is preserved inside the museum along with a beautiful collection of pottery, jewelry, beadwork, artifacts, Chickasaw artwork and archives.
*Reservations are required for large groups for guided tours.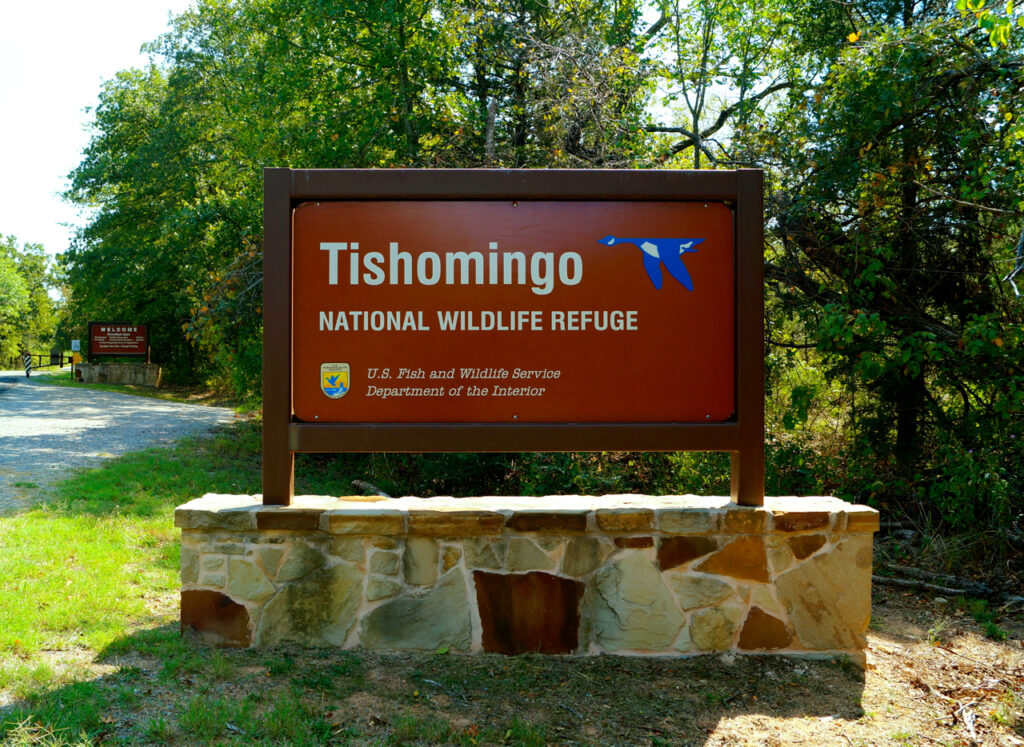 Tishomingo National Wildlife Refuge
Tishomingo's National Wildlife Refuge is a great place to fish or enjoy the quiet beauty of nature of south-central Oklahoma. The Tishomingo National Wildlife Refuge is 16,464 acres and the home to varied wildlife, plant life, and fishing.
Making it a great place for bird watching, photography, and taking a walk down various nature trails.
Established in 1929, the Tishomingo National Fish Hatchery is a unit of the U.S. Fish and Wildlife Service, Department of the Interior. The Hatchery spawns across 235 acres with 52 surfaces of water and 62 ponds. Featuring three fish-holding houses used as nurseries for paddlefish, catfish, alligator gar, alligator snapping turtles and more. Stop by and enjoy scenic hiking trails, a 20 foot diameter fiberglass circular tank and six large concrete raceways.
Visit Tishomingo's Heffington Waterwheel landmark was built in 2015 on Main Street of Tishomingo. The charming wooden waterwheel was even seen in a country music video. Stop by this local icon for fun photo opportunities!
The Johnston County War Memorial features a series of granite markers that honor those from Johnston County who paid the ultimate sacrifice in defense of our freedom in many previous military engagements.
The Bank of the Chickasaw Nation opened in 1901 and came to ruin in 1909 when a cashier and part owner absconded with the money and was never caught or brought to justice.  Now, the buildings interior of the first floor has been restored to its original appearance. The Chickasaw Bank Museum was placed on the National Register of Historic Places in 1992.
Sipokni West is known for its unique, historical movie set that has been constructed into a small, old western town. The old west town has a delicious restaurant, as well as a gift shop. Learn historical information from the old west, explore many historical areas and get a chance to watch gunslingers perform. The entire family will enjoy visiting Sipokni West, ensuring an authentic experience.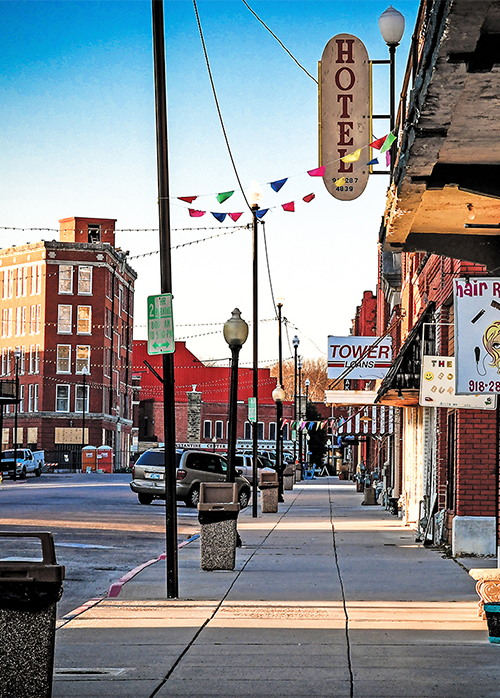 Visit Tishomingo, located 40 miles south of Ada, Oklahoma. This beautiful, historic city cherishes its native roots and is named in honor of he heroic Chickasaw Chief Tishomingo.
Dine-in for the Tishomingo experience or get it to go to continue your adventure in Tishomingo. Visit Tishomingo today!
580-371-3688  | 314 W Main Street
Old fashioned diner serving up all your favorite homemade foods.
(580) 371-2828 | 406 W. Main St.
Latte Da Coffee House offers special drinks, homemade pastries, and delicious lunch items.
(580) 371-3338 | 1120 E. Main St.
Start your day off right with locally made donuts and other breakfast items at the ready!
877-719-1288  | 1305 E Main Street
Scoot around to this coffee shop for your coffee and sweet treat needs.
(800) 733-6779 | 214 W. main St.
Old Red Tishomingo is an excellent restaurant for prime ribs, fresh fruit pies, burgers and more!
(580) 371-3550 | 10120 S. Linda Ln.
Fish Tales has the best fried fish and barbecue in the region with a unique metal building appearance.
(580) 371-0102 | 110 N. Kemp Ave.
Gonzalez Mexican Restaurant offers a delicious shrimp quesadilla and excellent Mexican dishes!
580-371-3371 | 1201 E Main Street
Locally owned pizzeria with yummy pies, wings, sandwiches & offers a buffet on specific days.
Stay at one of our wonderful Air BnB options for a personalized stay when you visit the City of Tishomingo
7 guests | 2 bedrooms | 4 beds | 1 bath
This charming historic home is located within walking distance of several attractions and restaurants. The Chickasaw capital grounds can be seen from the back door, Ol' Reds bar and grill is only 3 blocks away, and Pennington creek dam is 6 blocks to the west. Or take a short drive out through the Wildlife Refuge.
4 guests | 2 bedrooms | 2 beds | 1 bath
The whole group will enjoy easy access to everything from this centrally located place. Located 1.5 blocks from the Blake Shelton, inspired Ole Red Tishomingo, shopping, dining and the luxurious, Spa 211. This newly remodeled old Main St building is spacious and stylish.
6 guests | 2 bedrooms | 3 beds | 1 bath
Relax with your friends or family at this peaceful place to stay. Large yard and covered patio to enjoy the outdoors. Walking distance to downtown Tishomingo's fun venues and boutiques! Close to grocery store and Murray State!!
4 guests | 2 bedrooms | 2 beds | 1 bath
Newly updated home near all that Tishomingo has to offer. Home is walking distance to Murray College, the hospital, 1.2 miles to Blake Sheldon's Ole Red's and downtown Tishomingo.
Fish at Pennington Creek, the Washita River, or nearby Blue River. The Tishomingo Wildlife Preserve is just 4.1 miles away.
8 guests | 3 bedrooms | 6 beds | 1 bath
Take it easy at this unique and tranquil getaway. Located on 115 acres this charming 3 bedroom cabin overlooks a breathtaking view of Rock Creek. Relax and unwind at our swing on the sandy beach just feet from a beautiful waterfall. Make a fire in the fire pit or just unwind in the screened in porch.
7 guests | 3 bedrooms | 5 beds | 2 baths
Family Farm House sits on a small horse, cattle, and chicken farm with lots of friendly cats and dogs. The home is 1800 square feet of living space.
We also have 1 full RV hookup with 50amp service with water and sewer. It is $35/night and a 2 night minimum stay